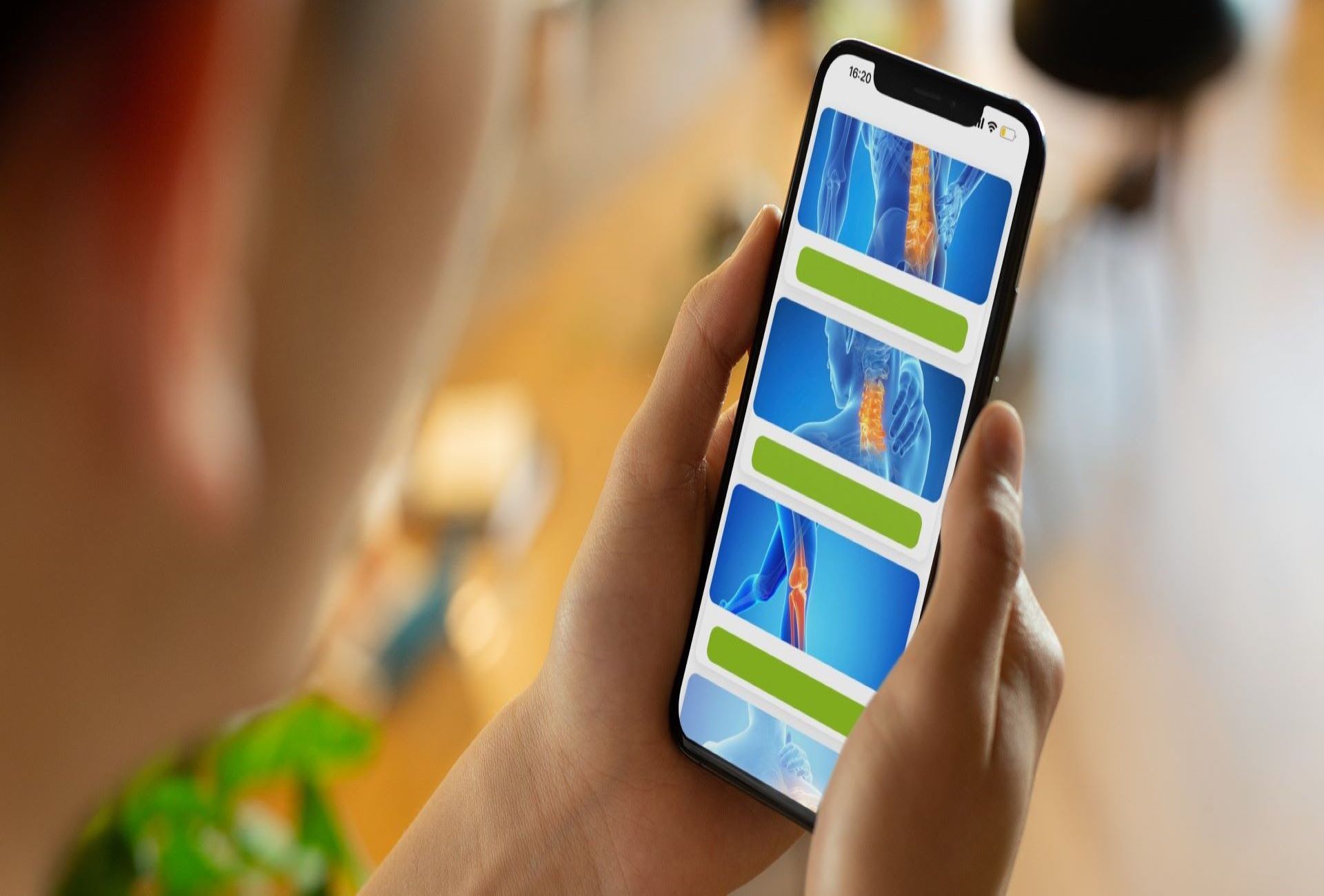 Need help with your muscle or joint problems?
The getUBetter MSK app is provided free of charge by Frimley Health & Care ICS for registered patients at GP Practices. It can be accessed on a Smartphone or on the Web, and guides you day-by-day through a sequence of exercises, tips, and support to help you recover from a range of new, recurrent or long term conditions:
Lower back pain
Back and leg pain
Neck pain
Shoulder pain
Ankle pain
Knee pain
Soft Tissue Lower Limb pain
Hip pain
You can self-refer to the app by clicking on this link
Please use an email address that is unique to you and select the condition you need help to manage. We will then send you an email with all the information you need to get started.
You can download the getUBetter MSK app to your Smartphone for easiest access, or you can use the Webapp.
If you develop another condition, select your new condition from within the app and it will be added to your account.
Remote Monitoring for Complex and Frail Patient
We have been identifying patients who may benefit from additional support in the form of a remote health monitoring service which will be operated by our healthcare partner, Berkshire Primary Care. Eligible patients will receive a text message with a questionnaire as well as a leaflet with more information. If you have any queries, please email frimleyicb.ringmead.healthtriangle@nhs.net
Worried about Strep A or Scarlet Fever?
Dr Streeter De Diego, local GP, Paediatric Doctor & Clinical lead Frimley Healthier Together, talks through what to do if you're worried and when to seek help.
Bracknell Forest Council – Community Winter Hubs
Bracknell Forest Council has identified 7 locations across the borough as accessible community spaces to act as community winter hubs. At these community winter hubs you can expect:
a friendly welcome
a warm, safe space
to be treated with kindness and respect
confidentiality
books, games and computer access
To know more about these hubs and their location, please click on the link Community winter hubs | Bracknell Forest Council (bracknell-forest.gov.uk)
The importance of looking after your lungs this winter
About 10,000 people in the UK are newly diagnosed with a lung disease every week.
It's a stark fact that somebody dies from lung disease in the UK every 5 minutes and in England, the number of people living with respiratory disease is one in five.
If you are that one in five, we want to make sure you know how to look after your lungs this winter.
Cold weather, respiratory viruses, central heating and damp and mould all play havoc with our lungs, especially when living with a lung condition. We have pulled together some tops tips to help you stay well this winter, enjoy festivities and help your loved ones understand where they can support.
Joanne King, Respiratory Consultant Nurse, Frimley Health NHS Foundation Trust says "During winter the risk to those living with a lung condition increases. We find when a patient understands their condition, their medication and can recognise what triggers their condition - they are better able to care for themselves and make an informed decision when to seek medical support early, preventing escalation and even hospital admission".
Daniela Nedelcu, Respiratory Specialist Nurse and Team Lead with the Community Respiratory service added
We advise all patients to:
· Get their vaccinations
· Avoided crowded places and unwell people
· Understand and take their medication
· Check the weather
· Stay warm and keep moving
· Look after their mental health by ensure they keep in contact with loved ones
You can find more information including informative videos on our dedicated web page at www.frimleyhealthandcare.org.uk/respiratoryconditions
Kilnik GO Live on 28th September
We are excited to let you know that we will be launching our new online consultation service Klinik on Wednesday 28th September at 8am.
If you have a clinical or non-clinical enquiry you could save time by visiting our website www.evergreenpracticegp.nhs.uk, and click on the secure link. You will be asked to complete a simple form that enables you to provide us the information needed to direct your enquiry to the right member of the practice team. Please note this is only available between 8am and 4pm Monday to Friday. If it is after 4pm and your issue needs to be dealt with urgently that day, please call the surgery and the staff will complete the form with you on your behalf.
We have been aware for some time of the pressure on the phone system and the stress this causes for both patients and staff members and over the past year have been looking at ways to improve our service. We also wanted a system that could help us to make better use of the other clinicians we now have access to such as Paramedic Practitioners, Advanced Nurse Practitioners, Clinical Pharmacists, First Contact Physiotherapists and the Community Pharmacy Consultation Service. Our aim is to make sure we offer fair access to our appointments based on medical need.
For more information about Klinik visit their Frequently Asked Questions page for patients at Patient FAQs (klinikhealthcaresolutions.com)
New Registrations
Please note that it will take 2 to 3 weeks to fully register any new patients.
Please bear with us.
Thank you in advance for your co-operation.
Help us help you get the right urgent care and support
15 Jun, 2022
Frimley Health has launched a new electronic patient record system that is affecting the Accident and Emergency (A&E) departments at Wexham Park and Frimley Park Hospitals. Safety remains paramount, so please be patient with the staff. Waiting times are likely to be longer than usual.
Unless it's an emergency remember there are lots of alternatives for you to make use of:
Visit your local pharmacy
During the day contact your GP practice via online consultation or phone
Contact NHS 111 online, www.111.nhs.uk or dial 111. If you are calling NHS 111, please be patient. NHS 111 may advise you to contact your GP or its out-of-hours service or attend the Bracknell Minor Injuries Unit.
For minor injuries, such as sprains and strains, suspected broken limbs, or minor head injuries, visit the Minor Injury Unit at Brants Bridge in Bracknell or the High Wycombe Urgent Care Centre – open 8 am-8 pm 7 days a week.
Anyone with a life-threatening condition should call 999. Help us to help you by seeking alternatives to A&E where it is safe to do so.
Summer safety awareness to keep children safe
20 May, 2022
NHS services are urging local people to be more alert to risks associated with warm weather this summer.

NHS Frimley Clinical Commissioning Group (CCG), which plans and funds the majority of health services provided to local people, are supporting a summer safety video, entitled 'Keep your kids live and kicking this summer'.

The video highlights the risks of leaving babies and infants unsupervised near water or open windows, particularly when parents and carers can be distracted.

Babies and infants need constant supervision around water – whether this is in the bath, paddling or swimming pool, by ponds, rivers or lakes. They also need supervision around open windows.

Debbie Hartrick, the CCG's Director for Safeguarding, said: "While incidents of drowning or near drowning are rare, it is really important that the safety of infants and children around water and open windows remains at the forefront of our minds, especially with the warmer days ahead.

"Pools, ponds and baths can keep your kids cool in the hot weather. However, water can also be dangerous for children if parents and carers don't pay attention.

"With more and more families still spending more time at home due to Covid-19, we know that children will be playing in garden paddling pools and it's important that they do so safely."

She added: "Young children can drown in less than two inches (six centimetres) of water, in only 20 seconds. If they are very young, you won't even hear them. They can slip under the water without making a splash or a sound.

"Young children don't understand that a fall can kill them – just as they don't understand that water can kill them."

"Getting distracted by a mobile phone, talking to other people, or wandering off when your child is around water can lead to tragedy.

"By spreading these key messages, we can all help to keep our young children live and kicking this summer."

The video was first launched by commissioners in the east of Berkshire in 2017 and has been widely shared over the years.
24 hours dedicated Advice line for pregnant women
Frimley Health's new 24-hour telephone triage service supporting pregnant women and new mums goes live at Wexham Park Hospital on 28 April 2022.
The Maternity and Midwifery Advice and Support (MAMAS) Line is a collaboration with South Central Ambulance Service (SCAS) and provides a single point of contact for women from 16 weeks into their pregnancy through to 28 days postpartum.
A team of our midwives will give consistent, evidence-based advice to women who are concerned about their pregnancy or who think they may be in labour. They will signpost other callers to alternative services when appropriate.
From 28 April at Wexham Park, mothers and families should call 0300 013 2004 to contact MAMAS Line. The same number will be able to be used by Frimley Park families in a few weeks' time.
The team, which will be based at the SCAS northern headquarters in Bicester, Oxfordshire, will also monitor 999 calls, enabling them to provide support when needed and to offer guidance to paramedics on the road. Their expertise could result in some ambulance callouts being stood down, ensuring they are available to respond to other emergencies.
The scheme will replace separate telephone triage lines currently operating at Wexham Park and Frimley Park hospitals, ensuring all future calls are answered in a timely manner and improving the experience for women.
The initiative is another example of the Trust collaborating with our partners to improve services for our communities - one of our key strategic ambitions.
The new phone number will be shared with women in their maternity notes and widely publicised in our hospitals, clinics and in the community.
Debbie Simkin, Lead Midwife for the Telephone Triage Project, said: "This brand new and innovative pregnancy advice telephone line will give women and community clinicians access to 24-hour evidence-based, consistent advice and support from midwives via a single point of contact.
"It will maximise our clinical expertise and empower women during pregnancy, birth and the postnatal period."
Infection Prevention Control guidelines to remain
The highest priority for the NHS remains the safety of staff, patients and visitors. While COVID restrictions will end in many settings in England from 19 July, everyone accessing or visiting healthcare settings must continue to wear a face covering (unless they are exempt) and follow social distancing rules.
Public Health England's infection prevention control guidelines and hospital visiting guidance are therefore set to remain in place for all staff and visitors and across all health services including hospitals, GP practices, dentists, optometrists and pharmacies to ensure patients and staff are protected.
Read the infection prevention control guidance for further details.
A&E High Demand
14 Mar, 2022
The Emergency Departments at Wexham Park and Frimley Park hospitals are currently experiencing an increasing level of demand which is likely to continue throughout this weekend. Please only attend if you have severe symptoms or suffering from a life-threatening condition. Check out our Know Where To Go guide for advice on how to get the help you need quickly and close to home. Remember, if it's less than an emergency, call 111 https://orlo.uk/MYet4.